ITIL
ITIL, formally an acronym for Information Technology Infrastructure Library, is a set of detailed practices for IT service management (ITSM) that focuses on aligning IT services with the needs of business. In its current form (known as ITIL 2011), ITIL is published as a series of five core volumes, each of which covers a different ITSM lifecycle stage.
ITIL describes processes, procedures, tasks, and checklists which are not organization-specific, but can be applied by an organization for establishing integration with the organization's strategy, delivering value, and maintaining a minimum level of competency. It allows the organization to establish a baseline from which it can plan, implement, and measure. It is used to demonstrate compliance and to measure improvement.
ITIL consists of a series of best practices for all IT organizations, regardless of the size of these organizations and the use of their technology. In fact, ITIL in the world, especially in Europe and America has been in full swing. It has been widely used by nearly more than 20,000 leading enterprises in different areas and different industry.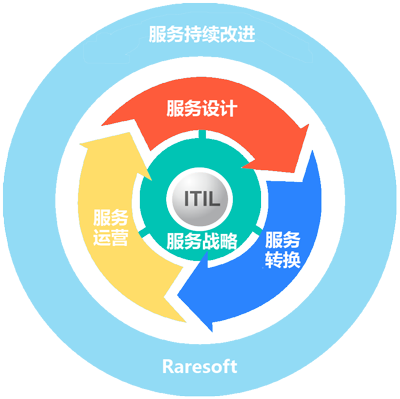 ITIL is a widely implemented standard for real. Raresoft's IT outsourcing services follow this standard to provide you with the most professional IT outsourcing services.
ITIL covers five life cycle stages of IT service management:
1. ITIL Service Strategy: understands organizational objectives and customer needs.
2. ITIL Service Design: turns the service strategy into a plan for delivering the business objectives.
3. ITIL Service Transition: develops and improves capabilities for introducing new services into supported environments.
4. ITIL Service Operation: manages services in supported environments.
5. ITIL Continual Service Improvement: achieves services incremental and large-scale improvements.
ITIL involves 26 processes and use five main written guidance document, respectively discussing the service strategy, service design, service transition, service operation and service improvement of IT services.
Services Strategy guidance on clarification and prioritization of service-provider investments in services. More generally, Service Strategy focuses on helping IT organizations improve and develop over the long term. In both cases, Service Strategy relies largely upon a market-driven approach.
Service Design provides good-practice guidance on the design of IT services, processes, and other aspects of the service management effort. Significantly, design within ITIL is understood to encompass all elements relevant to technology service delivery, rather than focusing solely on design of the technology itself. As such, service design addresses how a planned service solution interacts with the larger business and technical environments, service management systems required to support the service, processes which interact with the service, technology, and architecture required to support the service, and the supply chain required to support the planned service.
Service Transition relates to the delivery of services required by a business into live/operational use, and often encompasses the "project" side of IT rather than business as usual (BAU). This area also covers topics such as managing changes to the BAU environment.ITIL processes in service transition:Transition planning and support, Change management, Service asset and configuration management, Release and deployment management, Service validation and testing, Change evaluation, Knowledge management.
Service Operationaims to provide best practice for achieving the delivery of agreed levels of services both to end-users and the customers. Service operation is the part of the lifecycle where the services and value is actually directly delivered. Also the monitoring of problems and balance between service reliability and cost etc. are considered. The functions include technical management, application management, operations management and service desk as well as, responsibilities for staff engaging in Service Operation.
Continual Service Improvement aims to align and realign IT services to changing business needs by identifying and implementing improvements to the IT services that support the business processes. It incorporates many of the same concepts articulated in the Deming Cycle of Plan-Do-Check-Act. The perspective of CSI on improvement is the business perspective of service quality, even though CSI aims to improve process effectiveness, efficiency and cost effectiveness of the IT processes through the whole lifecycle. To manage improvement, CSI should clearly define what should be controlled and measured.